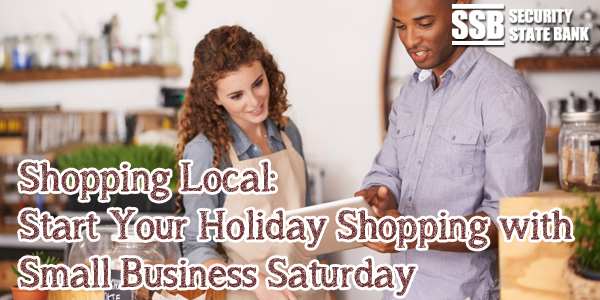 When you think about the holidays and where you're going to do your holiday shopping, do you think of large national retail chain stores? If so, there's nothing wrong with that. Some of these stores employ a number of people from our communities. However, while they may seem like the ultimate targets for getting your holiday shopping done Security State Bank wants you to stop and think about all the great businesses you are driving past on your way to these mega-stores.
See, we believe in strengthening our communities, and part of that is ensuring the success of our local small businesses. So before you head out to a huge regional or national chain store, take a second to think about the benefits of shopping local.
"Why should I shop local?"
It comes down to basic economics. When a new store opens, the owner has to hire staff members from the local community to help out. This gives them a job, benefits and income to spend. As the store does more business, more people have to be hired.
If the store does enough business, the local tax revenue generated goes to help improve public works items like streets, sidewalks and parks, making the community more attractive to live in.
Shopping local doesn't just impact the business owner and their staff. In the long run, it helps the entire community become a better place to live in.
"How do I shop local?"
You can start by heading out on Small Business Saturday, the day after Black Friday, to shops and stores that are in your community that aren't part of a regional or national chain. Many local stores may have great deals or sales to take advantage of, so you get quality goods at a good price, and most of the revenue stays right here in town. But it's not just a good idea to shop local on Small Business Saturday; these shops are a great place to find gifts throughout the entire holiday season and the year.
Again, shopping local doesn't just impact our local businesses. It can have a great benefit on our community as a whole, making it a worthwhile effort this holiday season and throughout the year.
We look forward to seeing everyone out and about on Small Business Saturday and throughout the holiday season!
- Security State Bank