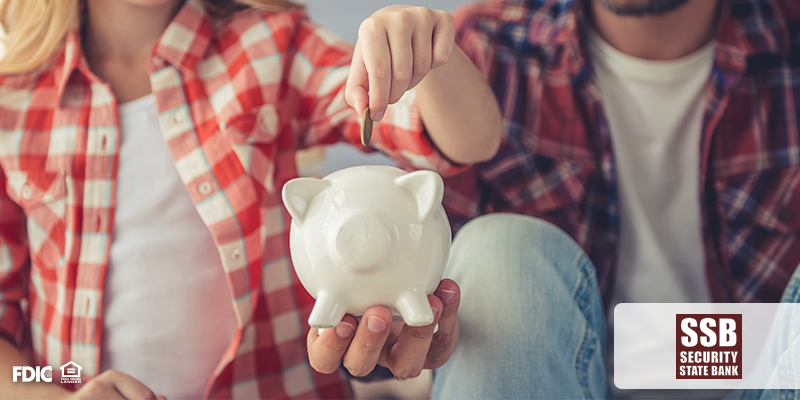 Helping your little one understand the intricacies of personal finance can often seem like an uphill battle. Luckily, our team at Security State Bank has a wealth of knowledge from the lessons our parents instilled in us! We're excited to share our family's words of wisdom in today's blog, and implore you to try their key points when working with your children.
Jan Scott: My parents always told me that in our household, money doesn't grow on trees; if you don't have the money, then you can't buy it until you save money for it. 
Help your kiddo understand why they need cash to purchase that new toy or trinket. Simple lessons such as this can add a consistent support to their ongoing financial education as they age. Once they're old enough to have an allowance help them take this concept one step further by making a rule that they must save 20 percent of their allowance; ten percent for college or other education and ten percent for personal savings.
Brian Meyer:  1. It's not what you make, it's what you spend that determines how much you save. 2. A day of work is better for your health than a day of play. 3. Family is more important than your bank account and lessons are learned and money is earned.
The main point these sayings drive home is that if you're smart with your money you can use it as a tool to help build the best life for you and your family. Whether it's finding better ways to work, learning from your mistakes, or always ensuring your family is a priority; each of these messages showcases what it means to have money enable your personal aspirations instead of burdening your or your loved ones with debt.
Craig Coffman:  This may not be a money lesson; however, leads to this in the end.  My parents taught me to never 'Burn my Bridges' and never leave a job unless you have another job to go to.
Sometimes the lessons our parents teach us at a young age can continue to help us later in life. This simple saying shows how you can help your children prepare for their eventual work life, and ensure they never go without employment, income, or healthcare for that matter too!
Zach Boss: Save everything you can:  Every year when I sold my fair animals at the 4-H livestock auction, my parents encouraged me that this money needs to go into my savings account for college! I'm glad I did because college was expensive and I wouldn't be where I was today if I disregarded that advice! I think I owe a big thank you for all the buyers of my fair animals over the years for helping me fund my college education! If the former buyers of my livestock over the years saw this, I would hope they would think they got a great return on their investment as I continue to work hard professionally and give back to the local community. Last week was the first time where I was able to bid on some of our local 4-H/FFA exhibitor's livestock project and give back just like those buyers did for me several years prior!
The lessons we learn don't always come from our parents, but other community members too! We love this example of paying it forward, and would encourage you to help your child determine where their 4-H winnings should be saved! Who knows, if a scholarship can help with school, perhaps the funds can also be used to help them start a small side business instead.
We'd love to hear how you and your family educate on personal finance! Be sure to post your tips, tricks, and words of wisdom on our Facebook page today! After all, raising a child takes a village, and we couldn't be happier to help!