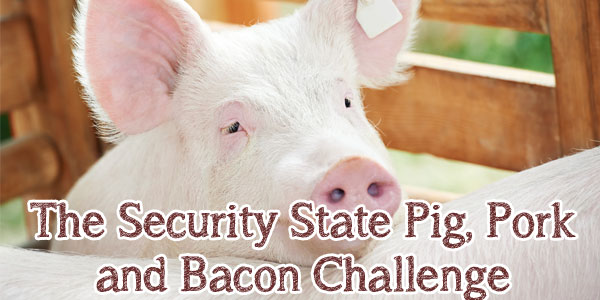 When we first started thinking about ways to celebrate National Pork Month during October, we had a brainstorming session. Ideas ranged from giving all of our customers who came by our offices a slab of bacon (a little too expensive) to a pig petting zoo (a little too messy). We were almost out of ideas when we thought of something brilliant: a pork quiz!
Since Iowa is the No. 1 pork-producing state in the nation, what better way to test your knowledge of all things pig than with the Security State Pig, Pork and Bacon Challenge? With a name befitting a food eating challenge, you can be sure this quiz is no slouch. Go through the ten questions below, then check your answers (at the bottom of the page) to see how well you did. Good luck!
Where does the U.S. rank in the world in pork consumption? A. 1st B. 2nd C. 12th D. 15th
Which company patented the first packed, sliced bacon? A. Oscar Meyer B. Hillshire Farms C. Hormel D. Farmland
What percentage of an average pig's weight is bacon? A. 5 B. 7 C. 9 D. 11
How much bacon (in pounds) does the average American eat per year? A. 10 B. 18 C. 13.5 D. 20
Which substance found in bacon helps with fetal brain development (meaning bacon is particularly good for pregnant women)? A. Choline B. Potassium C. Magnesium D. Sodium
Which two pig breeds are bred specifically for bacon? A. Wilbur B. Yorkshire C. Tamworth D. Whatever breed Babe was
How many teeth does a mature pig have? A. 11 B. 22 C. 33 D. 44
When your _____ is damaged, it can be surgically replaced with the same part from a pig. A. Ear lobe B. Knee ligament C. Heart valve D. Spleen
In the United States, which part of the pig is used for bacon? A. The shoulder B. The loin C. The cheek D. The belly
What percentage of bacon is eaten at breakfast in the U.S.? A. 50 B. 75 C.65 D. 85
How well did you do? If you got 8-10 questions right, you're definitely a Pork Pro! Answering 4-7 questions correctly makes you an Average Pig, and 3 or less questions right means you are, unfortunately, the runt of the litter. Now that we're sure you are ready for some crisp, thick-sliced bacon, head to your local grocer or pork producer, grab a slab and cook it up right during National Pork Month.
Answers. 1. C, 2. A, 3. D, 4. B, 5. A, 6. B & C, 7. D, 8. C, 9. D, 10. B